Basel Institute newsletter - March 2022
This news alert focuses on the ongoing crisis in Ukraine. Managing Director Gretta Fenner writes:
Dear friends and colleagues,

It is particularly difficult to write a newsletter note at times like these, when everything other than the horrific military aggression on Ukraine seems irrelevant. At the Basel Institute, we are heartbroken for our partners and friends in Ukraine, and for all the people of Ukraine.

It can be numbing. But we are gathering our energy to help, through collections of essential goods, by helping pack and organise transport, by supporting our Ukrainian team colleague. And by continuing our work.

Because our work is relevant, even critical. More than ever, we are starkly reminded that the tyranny unleashed upon Ukraine is the immediate by-product of kleptocratic autocracies. And it is corruption and money laundering that fuels autocracies. It is corruption that silences and disempowers people. And it is corruption that has brought our law- and rules-based world order to nearly break down.

This is why we are deeply committed to our mission of fighting for a world free from corruption. This is why we are committed to supporting Ukraine and like-minded countries seeking to throw off the shackles of kleptocracy. We are heartened at the nascent beginnings of a global coalition of nations, of citizens, of corporates, that not only withstand the latest military aggression, but also the underlying causes.

So we continue, together with all of you, in the hope that peace, the rule of law and democracy prevail.

Our hearts are with Ukraine.
The newsletter also features our latest news, blogs, quick guides and other publications, as well as joint articles with friends of the Basel Institute. We take this chance to welcome five new staff members to the team.
Not yet a subscriber? Sign up here.
Links and other languages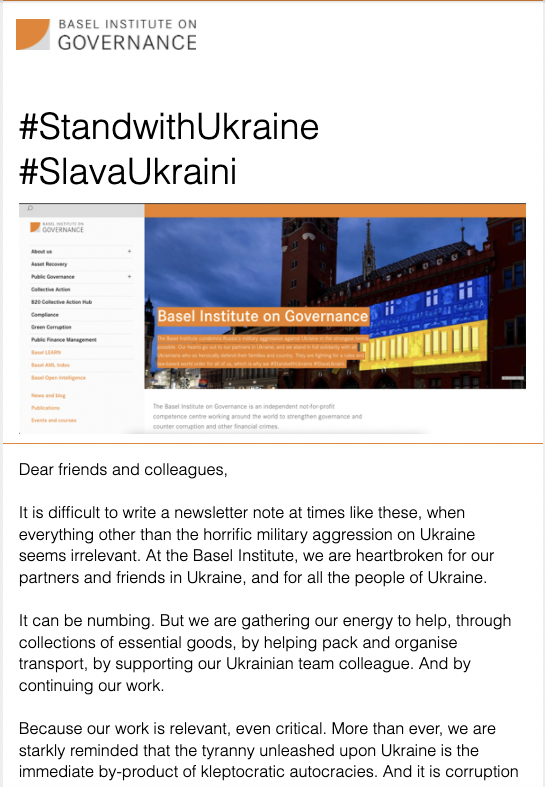 Publisher
Basel Institute on Governance