Event
Safeguarding Ukraine's forests: Environmental corruption during wartime | Захист українських лісів – корупція у сфері довкілля під час війни
**Українська версія нижче**
On 11 September 2023, the Basel Institute on Governance in partnership with WWF-Ukraine will host an online event on safeguarding Ukraine's forests and the challenges of countering environmental corruption during wartime. All are welcome to attend the online meeting, which will have English-Ukrainian simultaneous interpretation.
On the agenda:
Governance weaknesses in the forestry sector
Challenges of maintaining integrity during wartime
Corruption risks in timber and wood product sales
Tools to increase integrity
The role of civil society
Synergies with transparency and accountability mechanisms in Ukraine's emerging restoration system
The 1.5-hour event will feature key speakers from Ukraine's Ministry of Environment and Forests of Ukraine as well as forest specialists at WWF-Ukraine. These will highlight concrete actions they are taking to prevent corruption in the forestry sector and discuss how these could be made more effective.
Juhani Grossmann, who leads the Basel Institute's Green Corruption programme and is Senior Advisor for Central and Eastern Europe, will moderate.
Acknowledgements
The event is supported by the USAID-funded Targeting Natural Resource Corruption (TNRC) project. The TNRC project is working to improve biodiversity outcomes by helping practitioners to address the threats posed by corruption to wildlife, fisheries and forests. TNRC harnesses existing knowledge, generates new evidence, and supports innovative policy and practice for more effective anti-corruption programming. Learn more at tnrcproject.org.
Disclaimer
This event is made possible by the generous support of the American people through the United States Agency for International Development (USAID). The contents are the responsibility of the author(s) and do not necessarily reflect the views of USAID, the United States Government, or individual TNRC consortium members.
****
11 вересня 2023 року Базельський інститут управління у партнерстві з Всесвітнім фондом природи WWF-Україна проведуть онлайн-захід, що буде присвячений збереженню українських лісів та викликам протидії корупції у сфері довкілля у воєнний час. Запрошуємо всіх охочих взяти участь в онлайн-зустрічі. Подія передбачає,  англо-український синхронний переклад.
На порядку денному:
Слабкості управління в лісовому секторі.

Проблеми збереження доброчесності у воєнний час.

Корупційні ризики у сфері продажу деревини та виробів з неї.

Інструменти підвищення доброчесності.

Роль громадянського суспільства.

Синергія з механізмами прозорості та підзвітності у системі відновлення в Україні, що формується.

Синергія механізмів прозорості та підзвітності в системі відновлення України.
У півторагодинному заході візьмуть участь ключові спікери з Міністерства захисту довкілля та природних ресурсів України та ДП «Ліси України», а також фахівці лісового напряму WWF-Україна. Експерти презентують своє бачення необхідних кроків для запобігання та протидії корупції в лісовому секторі.
Юхані Гроссманн, керівник програми «Зелена корупція» Базельського інституту та старший радник з питань Центральної та Східної Європи буде модератором заходу.
Подяки
Захід проводиться за підтримки проєкту «Протидія корупції у сфері природних ресурсів» (TNRC), що фінансується Агентством США з міжнародного розвитку (USAID). Проєкт TNRC працює над покращенням результатів у сфері біорізноманіття, допомагаючи фахівцям-практикам протидіяти загрозам, що спричинені дією корупції на довкілля, рибальство та ліси. TNRC використовує наявні знання, генерує нові докази та підтримує інноваційну політику і практику для ефективнішої антикорупційної програми. Дізнайтеся більше на tnrcproject.org.
Відмова від відповідальності
Цей захід став можливим завдяки щедрій підтримці американського народу, наданій через Агентство США з міжнародного розвитку (USAID). Відповідальність за зміст несе автор(и) і він не обов'язково відображає погляди USAID, Уряду США чи окремих членів консорціуму TNRC.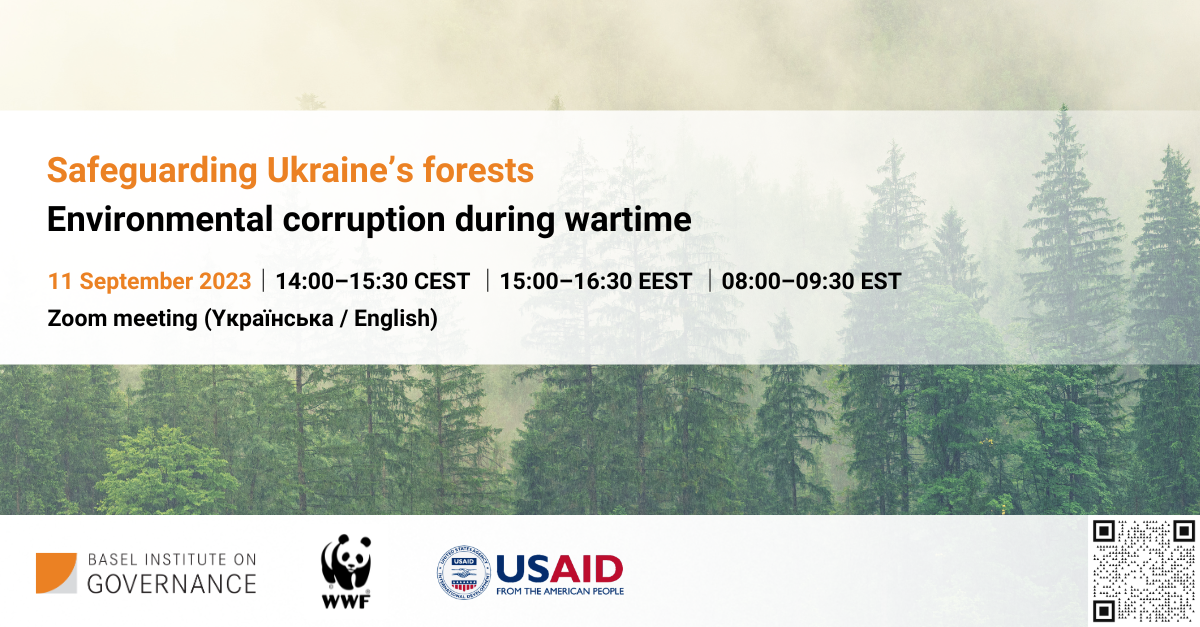 Start date
11 September 2023
End date
11 September 2023
Organiser
Basel Institute on Governance; WWF-Ukraine