Event
Workshop: Good governance for a nature-positive and climate-neutral recovery of Ukraine
This workshop will address good governance in the context of Ukraine's triple challenge: how to recover from the impact of Russia's attacks while adapting to and addressing climate change and nature loss.
In the next months and years, the Ukrainian government and authorities, foreign donors, financial institutions and the private sector will determine how billions of euros are invested for Ukraine's post-war reconstruction. Those decisions must be made with an eye to the future – climate- and nature-positive and with solid governance principles. This implies transparent and inclusive decision-making.
The workshop aims to flesh out how governance issues jeopardise sustainable natural resource use in Ukraine and identify mechanisms for future-oriented private- and public-sector investments. It brings together representatives from multiple stakeholder groups, including government authorities, policymakers, civil society and the private sector.
The results will inform the upcoming Ukraine Recovery Conferences in London later this year and in Germany in 2024, as well as other similar events.
Spaces for in-person attendance are limited to 100. Online participation is available. 
Agenda (times in CEST)
10:00: Opening remarks
Viola von Cramon-Taubadel, Member of the European Parliament
Irene Lucius, Regional Conservation Director, WWF Central and Eastern Europe
Juhani Grossmann, Team Leader Green Corruption, Basel Institute on Governance
10:05: Keynotes
Olha Stefanishyna, Deputy Prime Minister for European and Euro-Atlantic Integration of Ukraine
Teresa Czerwińska, Vice-President of the European Investment Bank
10:20: Panel 1: Governance issues in the field of natural resource use in Ukraine
Alina Sokolenko, Chairman of Association of Sustainable Development Experts
Amanda Cabrejo Le Roux, Environmental Crime Specialist, Basel Institute on Governance
Bastian Veigel, Programme Director at Deutsche Gesellschaft für Internationale Zusammenarbeit (GIZ)
Svitlana Kolomiyets, Adviser to the Head of the State Agency for Reconstruction and Development of Infrastructure of Ukraine; Adviser to the Minister of Environmental Protection and Natural Resources of Ukraine
Anna Paterson, International Development Consultant, The Policy Practice
Moderator: Juhani Grossmann
11:40 Panel 2: Good governance mechanisms to ensure a sustainable recovery in Ukraine
Mustafa Nayyem, Head of the State Agency for Reconstruction and Development of Infrastructure of Ukraine
Christine Toetzke, Director for European Union and Multilateral Development Policy, Federal Ministry for Economic Cooperation and Development, Germany
Reiner Perau, CEO, German Ukrainian Chamber of Commerce
Iryna Stavchuk, Ukraine Program Manager, European Climate Foundation
Moderator: Viola von Cramon-Taubadel
12:40: Agreeing on key messages to take forward to the Ukraine Recovery Conference 2023
12:55: Outlook and farewell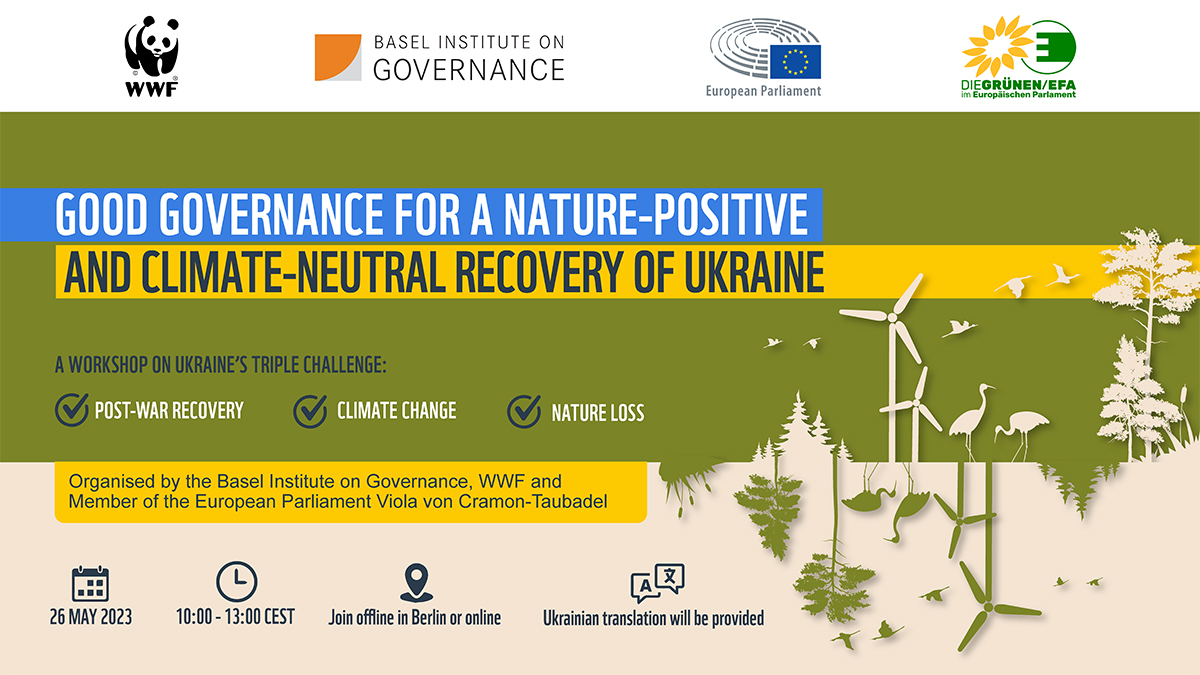 Organiser
Basel Institute on Governance, WWF Central and Eastern Europe, Member of the European Parliament Viola von Cramon-Traubadel