30. August 2023
Is the climate crisis a corruption crisis? An interview with Brice Böhmer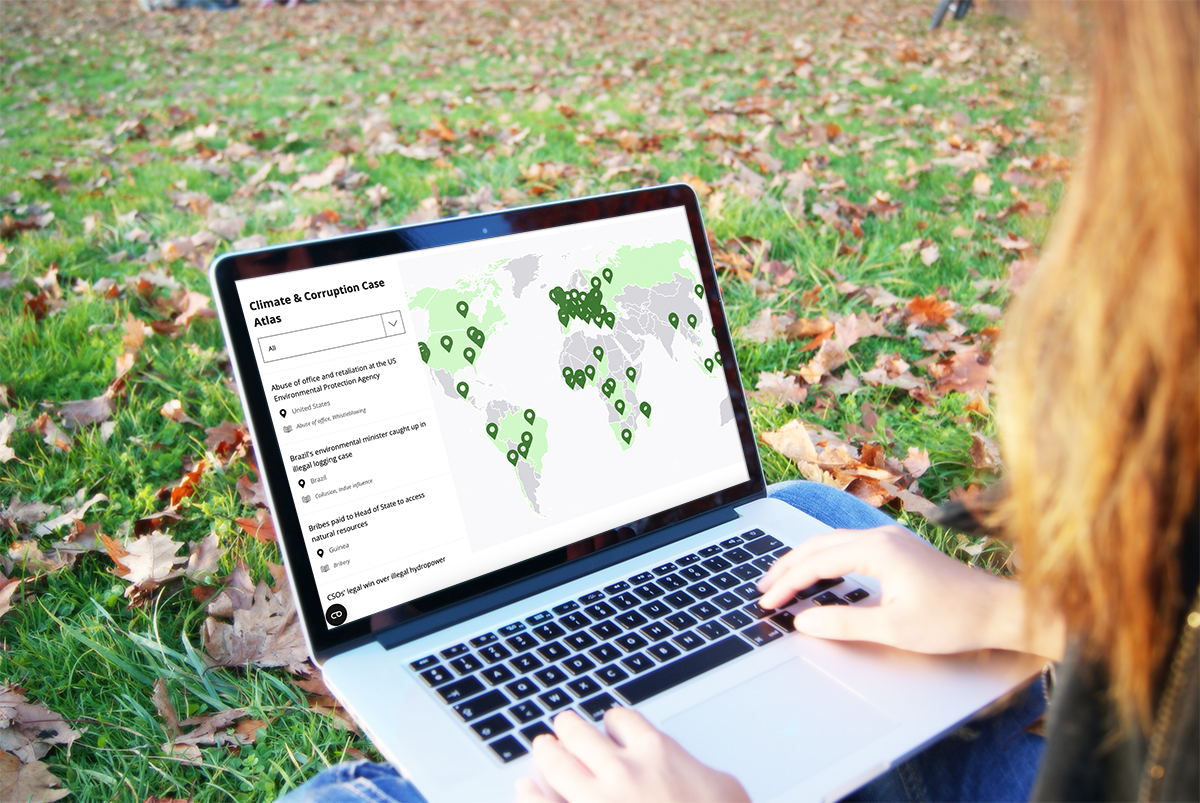 Our Environmental Crime Specialist Dr Amanda Cabrejo le Roux interviewed Brice Böhmer, Climate and Environment Lead at Transparency International and head of its Climate Governance Integrity programme. Brice also leads the new Working Group on Corruption in Climate Finance at the Countering Environmental Corruption Practitioners Forum, an initiative of the Basel Institute, Transparency International, WWF and TRAFFIC.
Brice explains how actors involved in climate-related initiatives need to seriously consider how corruption and vested interests can undermine positive policies, destroy the trust needed for good climate governance and divert much-needed funds. Promoting transparency, social accountability and multi-stakeholder dialogue will contribute to improved climate governance at all levels – and to secure better prospects for our planet.
Climate and corruption: what is the problem?
Several problems!
First, corruption diverts money that is desperately needed for climate mitigation and adaptation interventions.
Second, corruption reduces the effectiveness of climate action.
Third, corruption can dilute climate policies, through conflicts of interest and undue influence (lobbying).
Last, we have to look at the negative impact of other forms of environmental corruption on climate efforts. For example, illegal logging facilitated by corruption undermines efforts to preserve forests through climate-focused programmes like REDD+. To ensure that climate efforts are successful we also need to take these forms of corruption into account.
We consider climate corruption as the abuse of entrusted power for private gain that results in climate injustice and is hindering climate efforts. So this goes well beyond the financial side of climate-related efforts. It hits wider governance issues like transparency, accountability, participation and open data.
What are the forms of corruption at play and what are their effects?
Clearly, if large amounts of money are embezzled from climate mitigation and adaptation projects, these efforts will be less successful or may fail altogether. The intended beneficiaries – and our climate – will suffer as a result.
How much money is stolen is a difficult question to answer, because the world lacks data and even a clear framework for collecting data on climate finance or corruption.
In a sample of climate projects in Bangladesh, we found that all were affected in some way by corruption. In total, around 35 percent of the funding was lost. On a global scale, it is estimated that around USD 100 billion per year would be saved if we responded effectively to climate-related corruption risks – the same amount that wealthy countries originally pledged to send to developing nations every year under the Paris Agreement.
Some forms of corruption can have even more pernicious and long-lasting effects.
Imagine a corrupt deal to build a hydroelectric plant, for instance. Government officials award an overpriced contract to a company without the right skills or experience to build the plant in return for bribes or because politicians have a beneficial interest in the company. The result? The public funds are gone. The plant is not built, or is badly built. Perhaps local residents are thrown off their land without adequate compensation or means of seeking redress. Maybe environmental assessments are not carried out or are ignored, damaging the very environment we are trying to protect.
Corruption can take even more insidious forms. We've seen the impact of undue influence from oil and gas lobbying on law-making processes, or conflicts of interest that were not brought to light.
These forms of corruption affect decision making in all countries, including not only developing countries which are recipients of climate finance but also wealthy countries and multilateral institutions which are funding the majority of climate mitigation and adaptation projects.
What makes climate mitigation and adaptation vulnerable to corruption?
In our experience over the past 10 years of the Climate Governance Integrity programme, we see the following factors as critical:
The large and growing volumes of finance flowing to climate mitigation and adaption projects.
The pressure to disburse funds quickly due to the urgency of tackling climate change, leading to normal rules and systems being bypassed – as it happened in the Covid-19 pandemic.
The involvement of sectors with high corruption risks: infrastructure, energy, mining, forestry.
The fact that many countries receiving climate finance suffer from high levels of corruption. This is clearly visible if you compare Transparency International's Corruption Perceptions Index with a map of recipients of climate finance.
The technical nature of many climate mitigation and adaptation projects, which can make it easier to deceive independent auditors and evaluators.
The newness of climate institutions and funding channels, which may not have strong corruption controls in place. Many climate-focused institutions are only at the early stages of implementing compliance programmes – sometimes in response to Transparency International advocacy – or conflicts of interest policies.
What is Transparency International doing about it?
Our Climate Governance Integrity programme arose from the realisation that addressing the corruption risks that threaten climate efforts is vital for the future of our planet. The programme is now structured around three main elements:
Climate policy – making policymaking processes and institutions more transparent, inclusive and accountable.
Climate action – reducing the corruption risks which affect interventions, through developing social accountability tools to give greater oversight and voice to civil society organisations and marginalised groups, including indigenous peoples.
Climate justice – giving ways for victims of climate-related corruption to safely blow the whistle or seek redress.
The programme is coordinated centrally at Transparency International's Secretariat in Berlin and implemented in collaboration with national chapters from Transparency International's movement. We are currently expanding, with the goal of reaching 25 countries by the end of 2023.
A lack of data continues to be a problem. At the national and global levels, there are no accessible mechanisms for the public to know how much money is flowing, to where and from whom. There is not even a clear agreement on what "climate finance" includes.
Changing this lies largely in the hands of climate policymakers, but we are doing what we can to improve data on corruption and the climate. Our Climate and Corruption Atlas collects cases of corruption linked to climate governance. Moving from theoretical risks to real cases will help us estimate the scale of the problems and find better ways to tackle them.
What is the key to success in tackling climate-related corruption?
Dialogue and cooperation between different stakeholders. Specifically, people and organisations engaged in climate efforts need to come together with their counterparts in anti-corruption.
Only then can they learn to speak the same language. Even simple words like "governance" have different meanings to different people. Say "climate governance", and climate practitioners think of institutions like the Conference of Parties (COP) of the United Nations Framework Convention on Climate Change (UNFCCC) and international and national governing bodies. Anti-corruption practitioners think of good governance principles like transparency, accountability and participation.
Fostering multi-stakeholder dialogue can be project specific. For example, following a corruption risk assessment of REDD+ in Kenya, a multi-stakeholder REDD+ Integrity Task Force was formed in 2014 from members of government and civil society to respond to the different integrity issues raised.
We also need wider dialogue and cooperation between anti-corruption practitioners and those in climate/environmental fields, which is the aim of the Countering Environmental Corruption Practitioners Forum.
The Forum's Corruption in Climate Finance Working Group, which we have just launched, will be shaped by members from the ground up. I'm looking forward to vibrant exchanges on challenges, tools and best practices in the coming months. If you are working in this space or want to be, do sign up.
Learn more