13. June 2023
Which anti-corruption messaging works best? New Working Paper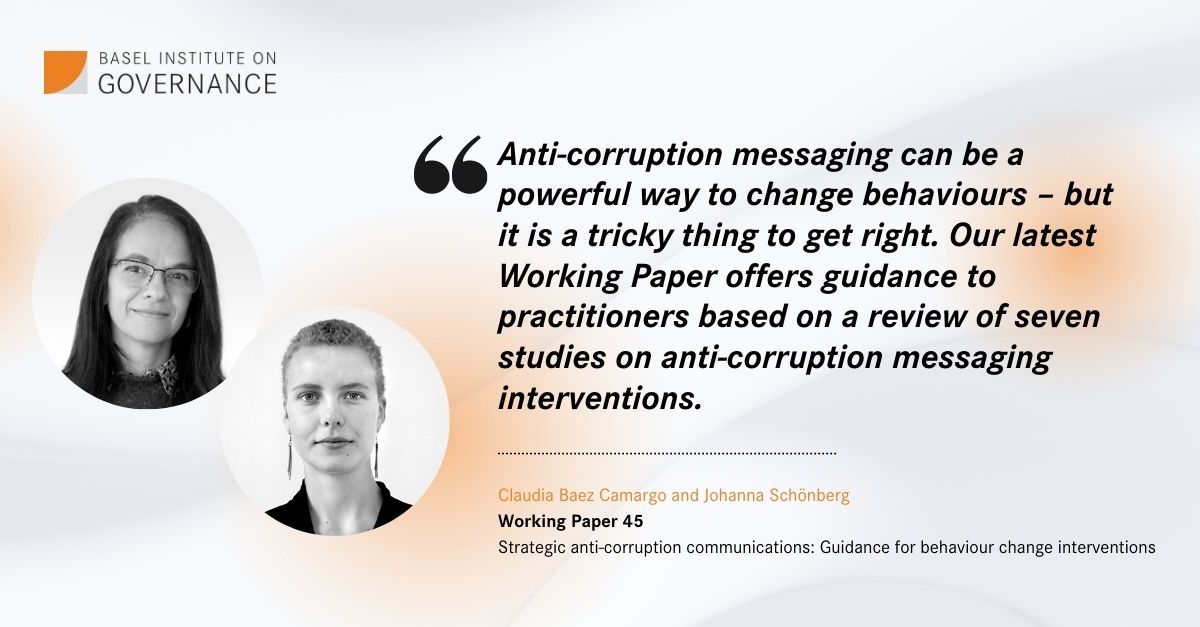 Many anti-corruption initiatives contain some kind of messaging element, such as public education campaigns or awareness-raising activities. Substantial resources, financial and human, are invested every year to develop and deliver messages about the evils of corruption and the need to eradicate it.
However, recent research has cast serious doubt on the effectiveness of messages about corruption in achieving their intended results.
Synthesising lessons
A new Working Paper by our Public Governance team analyses seven main types of anti-corruption messaging for their impact. It extracts lessons for practitioners seeking to adopt a behavioural communications approach.
Overall, the review finds that:
Emphasising that corruption is widespread typically backfires.
Negatively framed messages are mostly ineffective.
Messages with a narrowed focus and target group may be more effective.
Changing behaviour
The report incorporates insights from behaviour change theories and research, for example on social norms.
The authors also look to behavioural science to find solutions for when messages fail to convince people to update their beliefs – even in the face of credible information that defies those beliefs.
Theory of Change
The Working Paper gives practical implications for designing anti-corruption communication as part of behaviour change interventions. This includes outlining how to develop a robust Theory of Change to enhance the success of such efforts. The authors encourage practitioners to consider:
the baseline of prevailing descriptive norms, injunctive norms, personal attitudes and behaviours;
the potential power of influence (identify which outcomes are within the intervention's control);
the messenger (as certain messengers hold more sway in reaching the target group than others).
Practitioners are also encouraged to make messages relevant and actionable. Ways to do this include inviting relevant stakeholders to comment on the process, observing real-world behaviour and using messages about the concrete impact of corruption.
Tracking and creating long-term change
Finally, the guidance recommends that practitioners invest in a strong monitoring and evaluation framework. This is crucial for effectively measuring the achievement of outcomes and the intervention's adaptability to any changes. Practitioners must also think about messaging in terms of long-term outcomes and consider how to make an intervention sustainable. This can include complementing messaging with other approaches, such as:
Reforms of the regulatory framework or changes to incentives
Community meetings
Cultivating networks of champions
Engaging opinion leaders
Credible monitoring and potential for punishment
More
View and download: Working Paper 45: Strategic anti-corruption communications: Guidance for behaviour change interventions.
This publication is prepared as guidance for the USAID Indonesia Integrity Initiative (USAID INTEGRITAS), a corruption prevention programme in Indonesia implemented by a consortium consisting of Kemitraan (Partnership for Governance Reform), Indonesia Corruption Watch (ICW), Transparency International Indonesia (TII) and the Basel Institute on Governance. The initiative supports the country's efforts to prevent corruption by enhancing civic engagement and strengthening a culture of integrity and accountability.