24. October 2022
Peter Maurer on corruption, sustainable development and joining the Basel Institute on Governance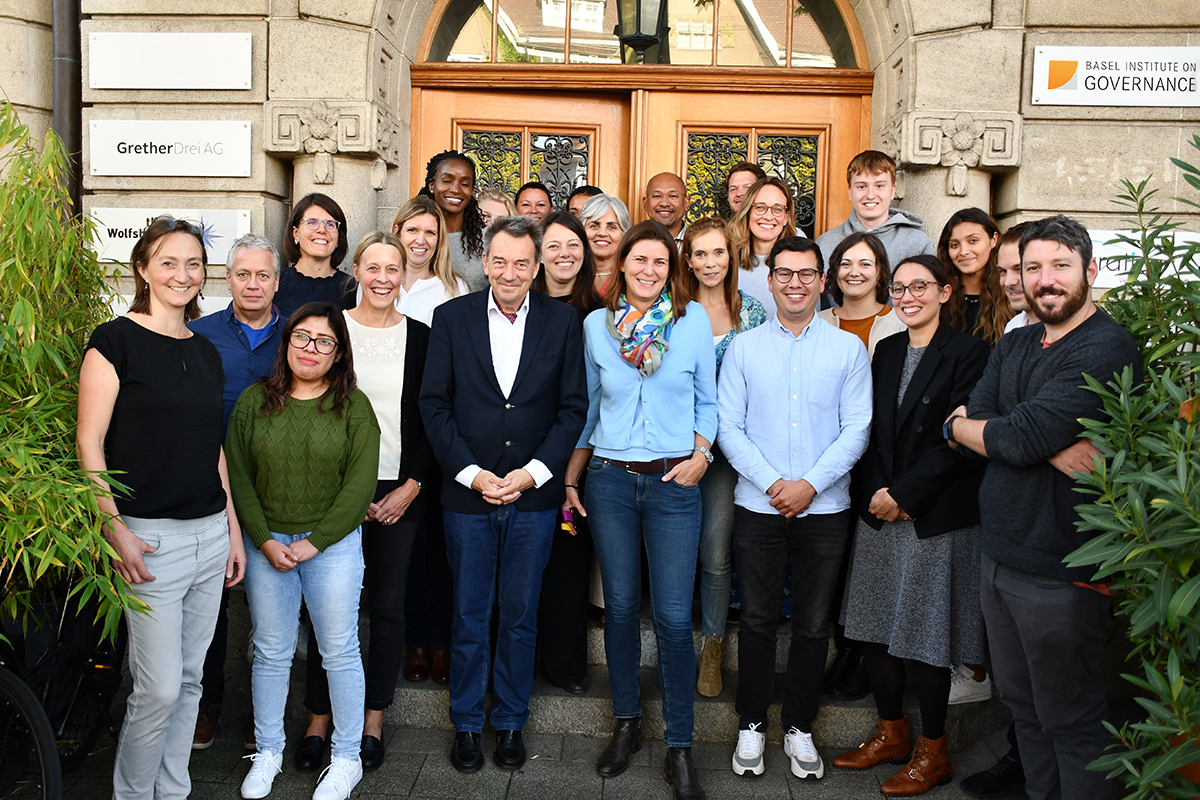 Peter Maurer became President of the Basel Institute on Governance in October 2022, succeeding the Basel Institute's founder and President for nearly 20 years, Professor Mark Pieth.
In this short interview, Peter Maurer reflects on his decision to join the fight against corruption after 25 years as a Swiss diplomat and 10 as President of the International Committee of the Red Cross (ICRC).
Why the pivot to corruption?
Throughout my 35-year diplomatic and humanitarian career, I have seen in so many contexts how corruption and poor governance cause human suffering and impede progress towards peace and sustainable development. 
Corruption fuels and exacerbates humanitarian crises linked to war and armed conflict, food insecurity, health emergencies and the effects of climate change. It squanders funds intended for essential services like health and education, skews the incentives of leaders away from the best interests of citizens, and destroys trust in institutions. High corruption risks hinder access to foreign investment and markets, holding back economic development. 
All these factors reduce the ability of states to meet the needs of their own citizens, in normal times as well as periods of crisis.
At the ICRC, we were mandated to assist and protect populations affected by armed conflict and violence and help them cope through humanitarian emergencies. Now, at the Basel Institute, I wish to focus on tackling some of the underlying causes of this human suffering: corruption and poor governance.
What is the link with international development assistance?
I have seen first-hand the importance of good governance to make humanitarian and development cooperation programmes work effectively. 
Corruption diverts flows of aid and investment from those who most desperately need it, undermining human rights and jeopardising assistance programmes. In contexts of weak governance and kleptocracy, well-intentioned aid and development funds may even exacerbate corruption by pouring money into contexts of low transparency, accountability, coordination and oversight. Also, mere perceptions of high levels of corruption may erode support for humanitarian or other international assistance in a country. 
Targeting corruption helps ensure that aid and other development assistance provided by governments, charities and citizens around the world actually reach their goals. It directly supports efforts to protect the lives and dignity of people in vulnerable situations.
So anti-corruption is not just about corruption?
Absolutely not. Corruption affects the whole of society and fighting it is a collective responsibility.
Corruption and the quality of governance impact fundamentally on our ability to reach each of the sustainable development goals. This is not just a problem of less developed or fragile states and contexts, but has deep impact on the global economy and the international cooperation system. When states abuse their geopolitical and economic leverage to unduly benefit their own interests to the detriment of others – well, that too severely impedes global progress towards peace and stability.
Those of us who work in the "fields" of anti-corruption, humanitarian assistance, sustainable development, human rights, environmental conservation, etc., are all working on different parts of the same system, using different methods and methodologies to pursue their objectives. This plurality is important as it is critical to work in complementarity and to ensure the best possible impact of scarce resources.
Why the Basel Institute on Governance?
First, for reasons of its long-standing dedication to countering corruption and improving standards of governance for the sake of people and our planet. The work of my 120 or so new colleagues has tangible and long-lasting impacts on people's lives and livelihoods. That holds true whether they are facilitating the return of stolen assets, mentoring best practice in private-sector compliance, or applying anti-corruption tools to combat environmental crimes.
Second, for its political independence and agility and for its professionalism in dealing with complex political and societal issues. These are even more important in a highly polarised environment within many countries and in the international system overall.
Third, for its position at the interface between technical excellence and policy advancement. The Basel Institute helps to bridge the gap between those on the front lines of fighting corruption and those taking decisions in high-level international fora and government cabinets. 
But just as much as what the Basel Institute does, it is how it works and has developed methods to navigate difficult environments. 
The basis of our work is always evidence – of what is or could be effective, what isn't, how to tailor different anti-corruption approaches to different contexts and how to demonstrate change. The teams integrate prevention and enforcement, seek out windows of opportunity and work through partnerships and across stakeholder groups. 
People are always at the centre, to bring change and to benefit from the change. So are efforts to learn, share learning and improve together. 
What will you bring to the Basel Institute's work?
I hope my experiences in international diplomacy and cooperation will help the Basel Institute to reach higher and wider in its work and to build broader support for its important endeavours. We can do more to push leaders to live up to their commitments and show pathways to do so through exemplary leadership.
I hope my continued focus on people, sustainable development, peace and security will help us to have even greater impact on the ground in the longer term. 
And lastly, I hope also to continue building political and operational bridges between those who work on "tackling corruption" and those who labour tirelessly in other ways to help their fellow citizens live safe, prosperous and dignified lives.