24. September 2020
Bushmeat trafficking risks explored at a United for Wildlife Taskforce meeting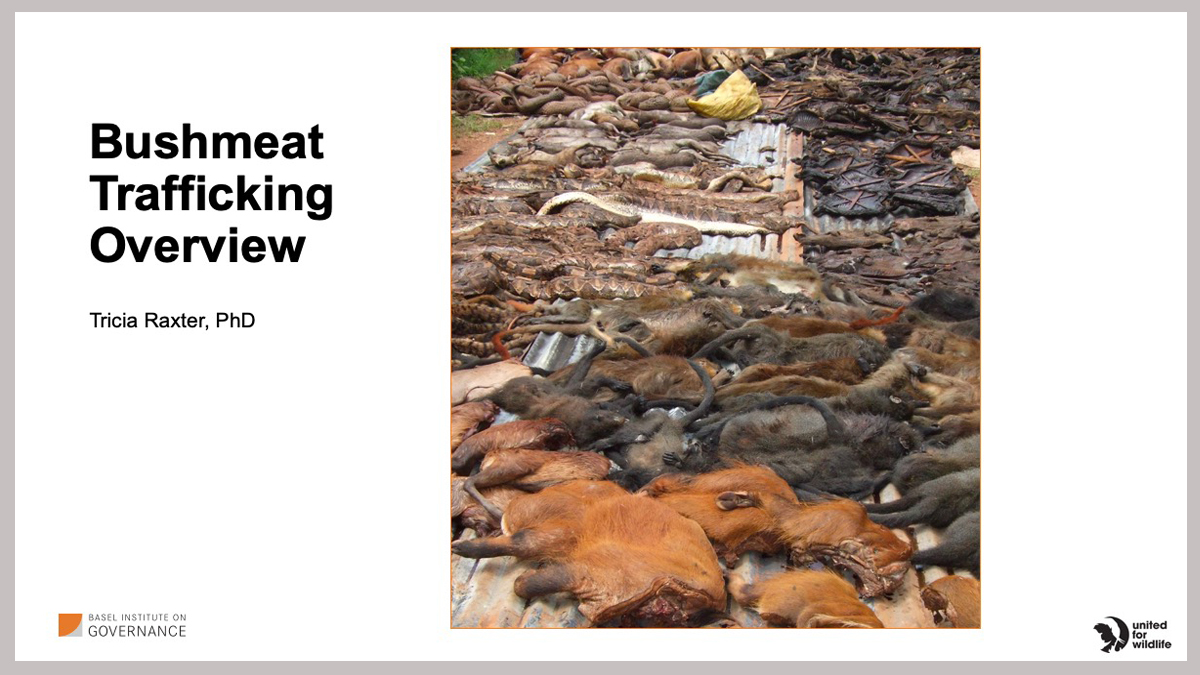 On September 23, 2020, the Basel Institute on Governance, as part of its support to United for Wildlife, organised a webinar on zoonotic disease risks associated with the trafficking in bushmeat. The event gathered members of United for Wildlife's Financial and Transport Taskforces wishing to explore this topic in more detail following a recent alert from the Basel Institute's intelligence team.
Presenting to an audience of 81 participants from the airline industry, law enforcement, financial institutions, NGOs and international organisations, the speakers and panelists highlighted the pandemic and reputational risks associated with bushmeat trafficking. Panelists noted in particular the serious reputational and operational risk faced by airlines and airports servicing Africa-to-Europe routes when transporting bushmeat.
Featured speakers included:
Rob Campbell, The Royal Foundation of the Duke and Duchess of Cambridge
Dr. Tim Wittig, United for Wildlife Information Sharing System, Basel Institute on Governance
Dr. Tricia Raxter, United for Wildlife Information Sharing System, Basel Institute on Governance
Ian Cruickshank, United for Wildlife Transport Taskforce
Denis Knauer, Border Management Expert
Sandrella Morrison, University of Utrecht
Bushmeat trafficking in brief
Bushmeat refers to meat harvested from wild animals in Africa, though the term can be applied to wild meat sold in Asia and South America as well. This can and often does include protected species, including apes and other primates.
Misconceptions around the terms make it easy to not take bushmeat trafficking seriously. Too often we equate bushmeat hunting with subsistence, rural communities and ancient traditions. In fact, the largest markets for bushmeat are in urban areas in Africa, where Africans purchase bushmeat as luxury foodstuffs preferable to farmed meat. In the Democratic Republic of the Congo alone, one million tons of bushmeat flows to urban markets each year. Across Central and West Africa, as much as 5 million tons of bushmeat is consumed each year.
While few studies have been conducted, bushmeat trafficking to Europe could top more than 1,000 tons annually. Each year traffickers and individual travellers move at least 270 tons of bushmeat through Charles de Gaulle Airport in France, 40 tons via Swiss airports, and 44 tons through Brussels Airport. The only risk most passengers face is having their meat confiscated. Few arrests or prosecutions occur, though it is increasingly clear that organised crime groups regularly ferry wild meat to markets in Europe in a low-risk, high-reward scheme.
In one study of bushmeat trafficking through Switzerland's airports, over one-third of the species seized were CITES protected species, including pangolins, primates, duikers, tortoises and small carnivores. This was in addition to non-CITES-protected species such as rodents, wild pigs and other ungulates, reptiles, birds and invertebrates.
Clearly, no species is immune to the threat of bushmeat trafficking, including humans: the chance of disease transference along the bushmeat supply chain is high. At the supply end, traffickers are vulnerable to contracting Ebola and other blood-borne diseases during the butchering and preserving process. Consumers are at risk of African swine fever, in addition to myriad other pathogens and diseases.
In fact, three out of every four emerging diseases originate in animals. This means it is only a matter of time before disease spillover occurs through the bushmeat trade, either in Africa or within the many bushmeat markets in Europe and beyond.
Further reading and sources