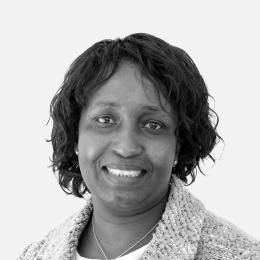 Sarah Chapman joined the Basel Institute on Governance in March 2019 as a Human Resources Specialist on a part-time basis. In her function, she supports the Institute in a variety of personnel-related affairs and will take care of staff requirements and concerns.  
Sarah is originally from Kenya but has been living in Switzerland for more than 22 years. After qualifying as a veterinary surgeon in Kenya, she joined the former Kenya trypanosomiasis research institute (KETRI) as a research officer and worked in several marginal and semi-arid regions of Kenya. 
She then pursued a Master's degree in Epidemiology in Free University of Berlin. Later she did her PhD studies in the University of Zurich and then a post-doc in ETH Zurich. She then worked as a research scientist in University of Zurich until having her son. After a career break, she decided to pursue a different career. 
Sarah graduated in 2020 with a Federal Diploma as a Human Resources Specialist in Corporate Human Resources Management with an emphasis on Swiss labour law.
She speaks fluent English, German, Swahili and Kikuyu.