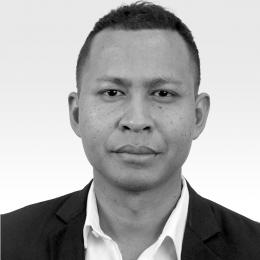 Mihajason Joseph Rakotondramanana joined the Basel Institute on Governance in October 2023. Based in Antananarivo, Madagascar, he serves as a Financial Investigation Specialist for the Green Corruption programme.
Prior to assuming his current role, Joseph worked as a financial analyst for the Financial Intelligence Unit of Madagascar. During his tenure, he investigated complex and sensitive cases involving money laundering and the financing of terrorism. He investigated cross-border financial crime, working with foreign prosecutors and law enforcement to combat suspicious drug trafficking and the illegal wildlife trade, particularly the illegal trade in rosewood from Madagascar. He provided typology expertise and supported AML/CFT training for partners. Joseph also participated in developing Madagascar's national risk assessment framework.
Before joining the FIU, Joseph managed a commodity exchange start-up in the private sector for two years, contributing towards the creation of an AML/CFT compliance process within the company.
Joseph holds a Master's Degree in Economics and Management from the Centre National de Télé Enseignement de Madagascar and a Bachelor's Degree in Finance and Business Development from the Institut Supérieur de la Communication, des Affaires et du Management in Madagascar. Currently, he is pursuing a PhD in Economics and Politics of Natural Resources at the University of Antananarivo.