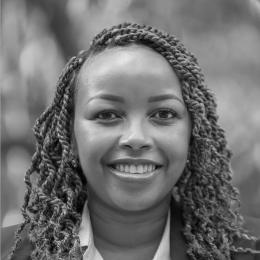 Hellen Muchunu joined the Basel Institute on Governance in December 2021 as a Programme Manager at the International Centre for Asset Recovery in Kenya.
Hellen is a Programme Management Specialist with 11 years of experience managing diverse and multi-sectoral programmes in Kenya, Ghana, and The Gambia. Her experience spans various sectors, including democratic governance, devolution, transparency and accountability, civil society strengthening, peace-building, citizen engagement and public policy. Hellen is also skilled in integrating gender into development programming and in managing social research projects to inform evidence-based governance and policy development processes.
Over her career, Hellen has managed programmes funded by various donors and development partners, including the UK Foreign, Commonwealth & Development Office (FCDO), the US Agency for International Development (USAID), the National Endowment for Democracy (NED), US Department of State – DRL, and the United Nations Development Programme (UNDP) among others. 
Before joining the Basel Institute on Governance, Hellen was a Project Manager at Saferworld, Kenya Office, where she was responsible for successfully delivering Kenya's governance and peacebuilding projects. In this role, she managed sub-grants to partner organisations and coordinated the technical and operational activities to ensure that project goals and objectives were accomplished within prescribed timeframes, funding parameters and compliance with donor guidelines.
Before that, Hellen was a Programme Manager at the International Republican Institute (IRI), where she managed the Institute's democratic governance programmes in Kenya while supporting various other programmes in Ghana and the Gambia. Prior to joining IRI, Hellen was a Regional Coordinator at the National Taxpayers Association (NTA), Kenya, where she managed the operations of the organisation's Central Regional Office and coordinated the implementation of projects focused on building citizen demand for accountability, tax justice, anti-corruption and strengthening government service delivery.
Hellen holds a Master's Degree in Project Planning and Management from the University of Nairobi, a Bachelor's Degree in Sociology from Moi University, and is an alumna of the Campaign School at Yale University. She is currently enrolled on the online GenderPro Capacity Building and Certification Course at George Washington University, USA.