High Level Reporting Mechanism in Panama
Overview
The Government of Panama originally envisaged the HLRM to apply to tenders in the infrastructure, but in 2015, decided to change the focus and apply the HLRM to oversee public procurement by the national Social Security Fund.
Known as the Secretaría de Alto Nivel para la Prevención de Actos de Corrupción (SEPRECO), it is similar to the Colombian HRLM model. It is designed to be staffed by representatives of Panama's Anti-Corruption Agency.
Although the Vice President of Panama publicly launched SEPRECO in March 2016, it is still inactive. The internal regulation needed to establish it is stuck awaiting endorsement by the Office of the Comptroller General of the Republic.
HLRM Panama timeline
July 2014: Discussions on the HLRM between Basel Institute and Panama.
Oct 2014: Expression of interest by Panama's Ministry of Public Works to develop an HLRM for tenders in the infrastructure sector.
Feb 2015: Scoping mission by the Basel Institute. The Panamanian government later decided to apply the HLRM to tenders in the Social Security organisation and health sector.
Mar 2016: Launch of HLRM followed by workshops with private sector, civil society and public officials.
Dec 2016: Internal report assessing corruption issues on public procurement in the health sector in Panama, scope and impact of the HLRM in retrospective.
Discussing the HLRM with the Vice President of Panama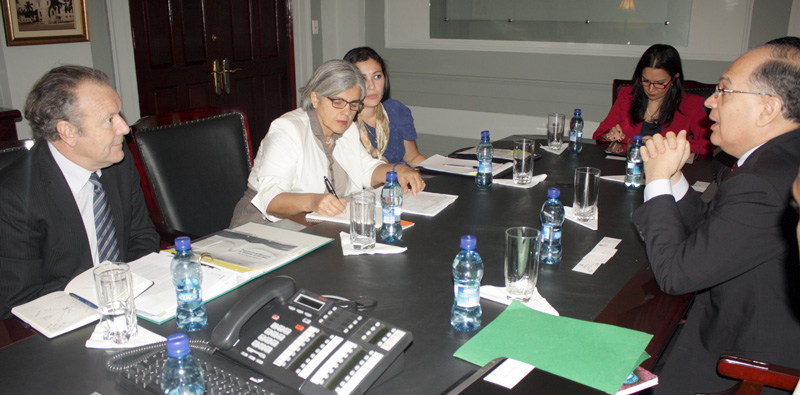 During the meeting on 12 January 2015, the Vice President and Chancellor emphasised that "it is definitely a challenge, but there is a strong will and commitment on the part of President Juan Carlos Varela and his ministers for the effective procedures to fight corruption and ensure transparency in our government."
Presentation: implementing the HLRM in Panama
See more country case studies
Support in implementing a HLRM
The Basel Institute on Governance and OECD offer comprehensive support to governments in developing, implementing and monitoring an effective HLRM.
Contact Gemma Aiolfi for more information.