Collective Action Peer Learning Workshop – April 2018
The Basel Institute's International Centre for Collective Action organised a Peer Learning Workshop in Basel, Switzerland from 26 to 27 April 2018 involving several initiatives engaged in anti-corruption Collective Action. 
The two main aims of the workshops were to: 
Promote peer learning among Siemens Integrity Initiative Partners and other Collective Action initiatives (CAIs). The idea was to create an intimate, informal space for participants to reflect, share and learn from each other on their experiences setting up and sustaining their respective initiatives. 
Identify success factors and strategies for overcoming common challenges facing anti-corruption CAIs. The workshops showcased the diversity of content and scope of initiatives across the globe, however some factors and challenges are shared. What objective lessons can we draw from them? How can we measure success?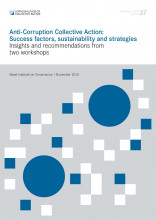 Working Paper 27: Anti-Corruption Collective Action: Success factors, sustainability and strategies
Presentations
Stakeholder engagement and sustainability
Integrity Pact initiatives
Law reform and Collective Action
Collective Action in East & South Asia
Other submissions
Background documents