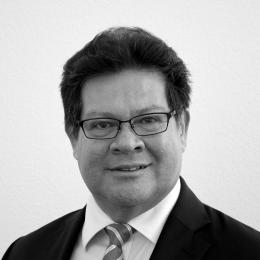 Fernando Dyer is Deputy Director of Compliance and Advisory Services at the Basel Institute on Governance. He joined the Basel Institute in September 2021.
His over 30 years of experience in the private sector include the strategy design, leading and managing of risk, compliance, corporate governance, internal controls and audit programmes at Tokyo- and NYSE-listed multinationals with worldwide reach. Fernando has worked in over 50 countries across the world, in business sectors ranging from engineering, construction, infrastructure operations and manufacturing to tobacco, banking, logistics and custom duty services.
In the specific area of risk and compliance, Fernando has developed and led international programmes on risk assessment, codes of conduct, whistleblowing, due diligence, anti-corruption, anti-money laundering and international sanctions aimed to deter, detect and protect companies from corruption and other crimes.
Fernando holds an MBA (summa cum laude) with a specialisation in International Management from the University of Geneva (Switzerland), a postgraduate Diploma of Compliance and Business Ethics (summa cum laude) from Paris 1 Panthéon-Sorbonne University (France), executive training on Corporate Risk Management from Harvard Business School (USA), and a Bachelor of Science in Accountancy from Universidad del Pacífico (Peru).
Fernando is also a Certified Anti-Money Laundering Specialist (CAMS) with the Association of Certified Anti-Money Laundering Specialists (ACAMS, USA), a Certified Corporate Compliance & Ethics Professional (CCEP) with the Society of Corporate Compliance and Ethics (USA), and was part of the International Faculty of the International Training Compliance and International Compliance Association (ICT/ICA, United Kingdom).
Fernando is a Swiss and Peruvian national and speaks fluent English, French and Spanish.